CASE
az groeninge
annual report
az groeninge from now on gives its staff the latest information about their hospital through a digital activity report.
az groeninge activity report
In addition to their mission to care for people, az groeninge had another one: to communicate more transparently. That means "clearly, concisely and fluently". They had a clear goal but were still looking for a partner with sound advice and experience to help them achieve it.
That is where we came in as a solutions partner. In order to make their mission a success, we drew up an innovative online activity report in a process of joint creation. One that is easy to update and simple to share.
In this way, we brought transparency, simplicity and tranquillity to the complex environment of communication.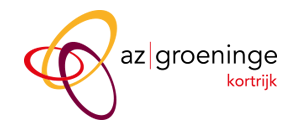 The digital activity report
Making communication transparent is quite a challenge. Especially in a large company such as az groeningeand in a world full of change. That is why we opted for digital. A digital report can be updated regularly. This way, you keep everyone up to date with the latest developments no matter the time or place, and everyone gets a clear picture of az groeninge.
"I was looking for a way to make our activity report timeless and easy to share. An online publication fulfilled all these wishes."
Stefaan Lammertyn - Press and Communications Manager - az groeninge
Advantages of an online activity report
1. Easy to use
Specific information is easy to share and tailored to the needs of the patient, employee, supplier and stakeholder.
2. Flexible
All information, such as names and numbers, can be easily adjusted. The organisation can also check what the reader is looking for and what he or she likes in its report, in order to make adjustments flexibly afterwards.
Together with az groeninge, we went that extra step further. We gave them supportive training so that they can work on a digital magazine for internal use. The main goal was to perfect the access for visitors.

Organisation
Organisation via the most appropriate communication medium and supportive training.

Personalisation
Personalisation through an innovative, customised activity rep
Would you like to prepare your online activity report together with us?